welcome to the artdev newsletter
If you're hungry to have more art in your life, even if only in your inbox, then this newsletter is for YOU
This newsletter is for those devoted to art, seeking to develop their taste in art, or wanting to discover more art but don't know where to start.
The world has changed so much, yet why haven't our signals for curating art changed so? So, I will share my favorites and own finds of art here — in all forms and mediums: whether visual arts, moving arts/ entertainment, mixed media, or even jewelry — as well as the spaces (and installation/exhibit designs!) that house and display the works themselves.
More about the why, what, when, and how behind this newsletter here, but here's what to expect from it:
up to weekly emails

just one pick (artist, artwork, installation/space, or other specific detail) per issue

selected links to re/sources — what you can do with the information

simple descriptions from the perspective of a viewer, not a critic

lots of careful curation in a noisy world seeking signal
Thank you for joining my journey as an arts lover who travels between worlds!
~sone
@smc90
image below: Olafur Eliasson's The Weather Project, Tate Modern, London, 2003
I saw this December 2003 in London and was struck by how people interacted with the illusion of the sun as if it were the sun… and yet, it was also something else at the same time, too!
Best part is that I had no idea what it was and just walked into the space where it was housed — Turbine Hall, for site-specific installation art — which originally housed massive power generators when it used to be the Bankside Power Station. The power station was decommissioned and then turned into the Tate Modern museum by the Tate Gallery, and designed by Swiss architecture firm Herzog & de Meuron. (Yes, I'll often talk more about the displays of the works themselves — so meta, but also SO amazing, trust me)!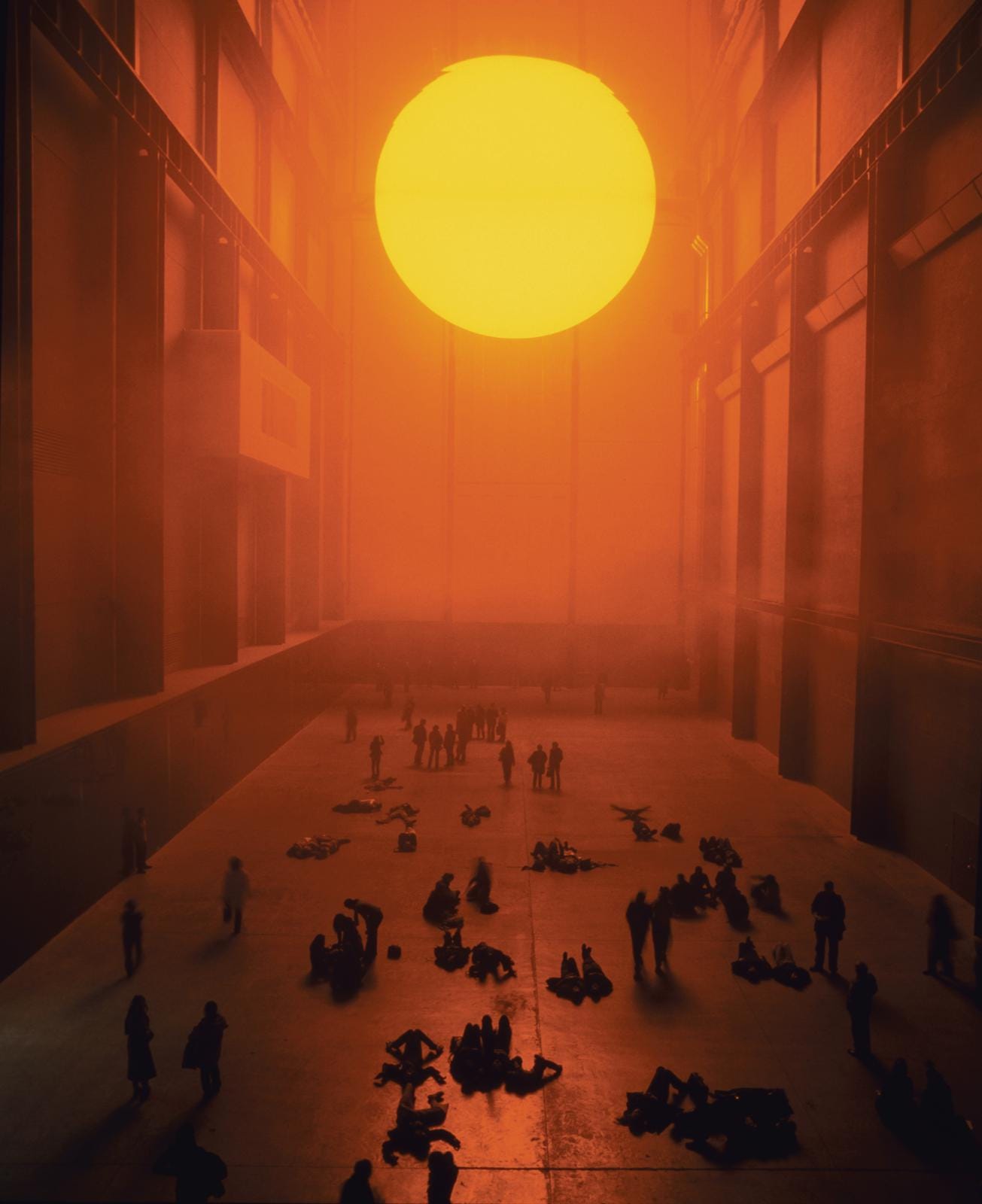 p.s. You may be getting this email because you signed up earlier for my The Capitalist Traveler newsletter, which I have morphed into this Artdev newsletter:) — or, because you signed up for my previous TinyLetter. If you'd like to unsubscribe from this (link below), I won't be offended; otherwise, I hope you enjoy it! ~warmly, sone